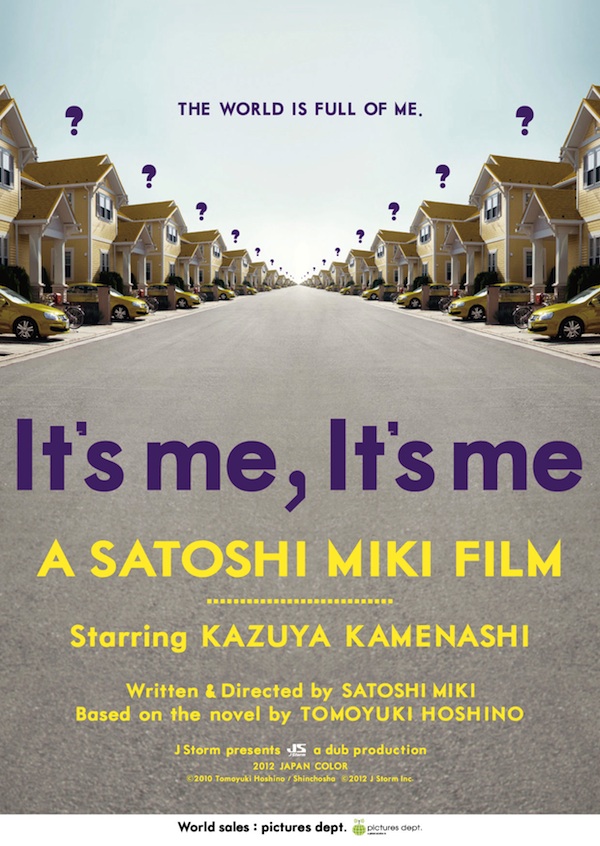 Ore ore "it's me, it's me" - Based on a popular Japanese contemporary novel, director Miki wrote the script himself, opting for an original, spell binding ending that makes full use of the art. Realistic, surreal, funny and unnerving, this film will swallow you up in unfathomable suspense.
What's the story is about?
A casual scam triggers a surreal series of events which turns everyone into "ME", who eventually turns on each other. This fantastical tale of "selfmultiplication" will be made into a film by Satoshi Miki ("Adrift in Tokyo" ('08), "Instant Swamp"('09) who has made his mark with his original worldview that renders his works a world of its own, which is known as "the Miki World."Kazuya Kamenashi of a popular boy-band , KAT-TUN, will star as the protagonist , Hitoshi, who is at first disoriented in the world that is inhabited by so many Hitoshi, yet unexpectedly finds the uncomplicated relationships among "himselves" quite comfortable.
I am Hitoshi, aged 28. One day, I encounter another me. That Hitoshi tells me that he has actually met another Hitoshi, the week before. It looks like everyone turns into "ME". Before I know it, the world is filled with "ME" at a staggering speed. And in time, all these "Mes" start deleting other "MEs".
CREDIT :
Written and directed by Satoshi Miki
Starring Kazuya Kamenashi
principal cast: Yuki Uchida, Ryo Kase, Midoriko Kimura, Keiko Takahashi
Original Story by Tomoyuki Hoshimo, "Oreore" ©2010 Tomoyuki Hoshino/Shinchosha
2012/Japanese/colour/119min./ 1: 1.85 / 5.1ch Stereo
©2012 J Storm Inc.
FOR MORE INFO, VISIT
ORE ORE OFFICIAL PAGE