Junichi Okada (29) from V6 revealed to the press yesterday that he had gotten the licenses needed to become a martial arts instructor, reports Oricon.
Attending a press conference to promote his upcoming film "SP THE MOTION PICTURE 野望篇 (Yabo volume, Ambition volume)", Okada said he had something real to show everyone.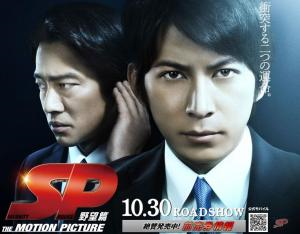 "Yesterday, I got the licenses I need to become an instructor for Filipino martial arts Kali and Bruce Lee's martial arts Jeet Kune Do."
The movie is a follow up to the TV drama series that aired on Japanese TV in 2007, and follows the SP police team as they battle off with terrorists.
Okada has been reported to have started Kali training while working on the drama, where he used it as his secret weapon. After the drama series finished, the popstar had decided to continue his training, and also took up Jeet Kune Do.
For his latest movie, Okada has been reported to have taken part in everything to do with his action sequences from the planning processes, to actual filming. He even taught his co-star Yoko Maki (27) some moves.
"SP THE MOTION PICTURE" is set to be released on October 30.
source; MOMOEDGEWOOD
_________________