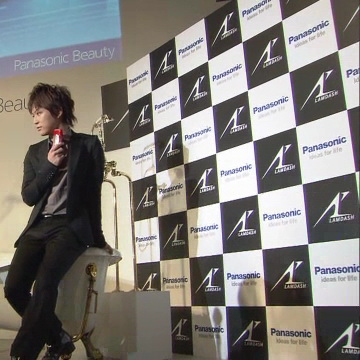 Daily Sports Online
亀梨和也、あこがれの人との対面に興奮 
KAT‐TUNの亀梨和也が20日、都内で行われたメンズシェーバー「ラムダッシュ」の100万台突破記念イベントに出席し、野球評論家の古田敦 也氏と野球談議に花を咲かせた。芸能界きっての野球通で、日本テレビ系「Going!Sports&News」の野球サポーターを務めている亀梨。古田氏 に「取材現場を大事にしているし、そのうちスポーツキャスターになっていると思う」と太鼓判を押されると、少年野球では捕手として古田モデルのミットを愛 用していたという亀梨は「あこがれの選手。一緒にいるのは信じられない」と興奮気味だった。
Kamenashi Kazuya, Excited meeting person he admires
Kat-tun's Kamenashi Kazuya attended the celebration event of the men's shaver (Lamdash)'s Million seller breakthrough, which was held on the 20th .Along with base ball critic (Furuta Atsuya) they had a fun baseball related discussion.
As Kamenashi is considered the best baseball expert in show business, and as the baseball special supporter on the NTV show (GOING!Sports & News), Furuta says giving him approval ( He's valuing the interview site, and becoming a sports caster along the way ). He habitually used Furuta's model mit, as a catcher young baseball player, Kamenashi added with excitement (He's player that I admired. I can not believe I'm with him right now ) .
Nikkan Sports
亀梨くん、いつまでもきれいでいて…
KAT-TUN亀梨和也(24)が20日、都内で行われたパナソニック ビューティー商品ミリオンセラー記念イベントに出席した。
亀梨は今年3月から同ビューティーシリーズのうち、メンズシェーバー「ラムダッシュ」イメージキャラクターを務めている。同商品の売り上げは100万台を突破。亀梨は「歌だってミリオンヒットはなかなかできないこと。すげーって感じですね」と驚いた。
09年から1年間、同商品のCMキャラクターを務めた野球解説者、古田敦也氏(45)も出席。古田氏は「いやぁ、ウチの嫁(=タレントでキャス ター中井美穂)が亀梨くんの大ファンで。嫁に写真を撮ってこい、と言われたので、楽屋で撮らせていただきました」と頭をかいた。CMでは"後輩"の亀梨に 対し「亀梨くんに無精ひげが生えていてもねぇ…。いつまでもきれいにいていただかなくては」と注文をつけていた。
Kamenashi-kun, stay pretty forever ....
Kat-tun's Kamenashi Kazuya attended the Million seller celebration event of the Panasonic beauty product . Kamenashi was the image character of the men's shaver (Lamdash) which is a beauty series product. The product's was a million seller breakthrough, and regarding that Kamenashi showed his surpise saying (It's even hard to to make a million seller song. It felt great )
The baseball commetator (Furuta Atsuya) was the products' commercial character for one year since 2009. Furuta says (My wife (The talent and caster Nakai Miho) is a big fan of Kamenashi-kun, and she wanted me to ask him for a photo, so he let me take one back stage ). He requested Kamenashi as his Junior (Even if he grow an unshaved face, he has to stay pretty forever )
Sankei News
男も職場で歯磨き!? パナソニック、電動歯ブラシ広告に亀梨さんを起用
パナソニックは20日、小型電動歯ブラシ「ポケットドルツ」など美容家電の販売促進イベントを都内で開いた。イベントにはポケットドルツの広告キャラクターに起用するタレントの亀梨和也さんらが駆け付け、会場を盛り上げた。
ポケットドルツは長さ16センチ、直径2センチの小さいサイズが特徴で、昼食後に職場で歯を磨く女性を中心に人気を呼んでいる。今年4月の発売から5カ月間で当初の年間計画の1・5倍となる約75万個を売り上げた。
11月1日からは現在の黒色や赤色など5色に、新たに白色など5色を追加。男性への普及も促し、今年度計100万個の販売を目指す。
イベントに登場した亀梨さんは、「(ポケットドルツは)本格的な歯磨きもできるし、見た目も格好良い」とアピールした。
Also men can brush teeth at workplace !? Panasonic, is choosing Kamenashi-san for the electric toothbrush commercial
Panasonic held an event promoting beauty appliances including the small-sized electronic toothbrush (Pocket Doltz) .The event was attented and brought to climax by many including Kamenashi Kazuya who was chosen as the commercial character of the (Pocket Doltz)
credit : plumerika@lj