Okyakusama wa Kamisama ~Concert 55man nin Ai no request ni kotaete!! ~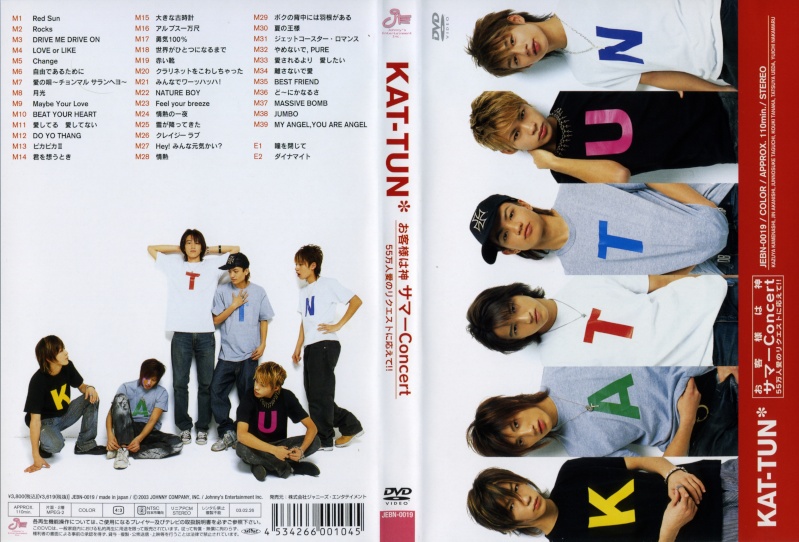 Release date: 2003/02/26
Summary: Filmed live at Tokyo International Forum on August 10 & 11, 2002, during the group's first headlining show. The 6-piece "Johnny's Jr." group performed to a crowd of 20,000 (while over 550,000 people tried to get tickets to it). Also includes interviews and behind-the-scenes footage. A 24-page booklet included. The tracks sung are mostly from their senpai's since KAT-TUN is just a baby bird at that time. The tracklisting are:
1. Red Sun
2. Rocks
3. DRIVE ME DRIVE ON
4. LOVE or LIKE
5. Change
6. Jiyu de Arutame ni
7. Ai no Uta -Chonmaru Saranheyo-
8. Gekko
9. Maybe Your Love
10. BEAT YOUR HEART
11. Aishiteru Aishitenai
12. DO YO THANG
13. Pikapika II
14. Kimi wo Omou Toki
15. Okina Furudokei
16. Alpine Ichimanjaku
17. Yuuki 100%
18. Sekai ga Hitotsu ni Narumade
19. Akai Kutsu
20. Clarinet Kowashichatta
21. Minna de Wahhahha!
22. NATURE BOY
23. Feel your breeze
24. Jonetsu no Ichiya
25. Yuki ga Futtekita
26. Crazy Love
27. Hey! Minna Genki Kai
28. Jonetsu
29. Boku no Senaka niwa Hane ga Aru
30. Natsu no Osama
31. Jet Coaster Romance
32. Yamenaide, PURE
33. Aisareru Yori Aishitai
34. Hanasanaide Ai
35. BEST FRIEND
36. Dou~nikanarusa
37. MASSIVE BOMB
38. JUMBO
39. MY ANGEL,YOU ARE ANGEL
40. Hitomi wo Tojite
41. Dynamite
The first concert which every KAT-TUN fan should be proud of. They are able to release a DVD for this concert before their debut which shows how successful they are. Not many knows but a junior fandom is the most heartbreaking one ever exist and with the release of this DVD, KAT-TUN fans are reassured that the boys will be somebody in the future. And they did. My heart goes to this concert. Watch it to see KAT-TUN full of boyish charms,
Ueda's tears,
and many more
.
The guest are their friend who is still an undebuted junior, Kazama Shunsuke and their papa, Domoto Koichi.
See how Koichi literally throws Kame into the audience, I love that part~~~
The boys are still at a cute stage back then, where Kame still call Tat-chan leader and Bakanishi is still, well, a Bakanishi~
Truly the most memorable concert ever, answering request for 550, 000 people!!!
KAT-TUN is truly amazing!!!~~~
~^3^~