KAT-TUN Live Kaizokuban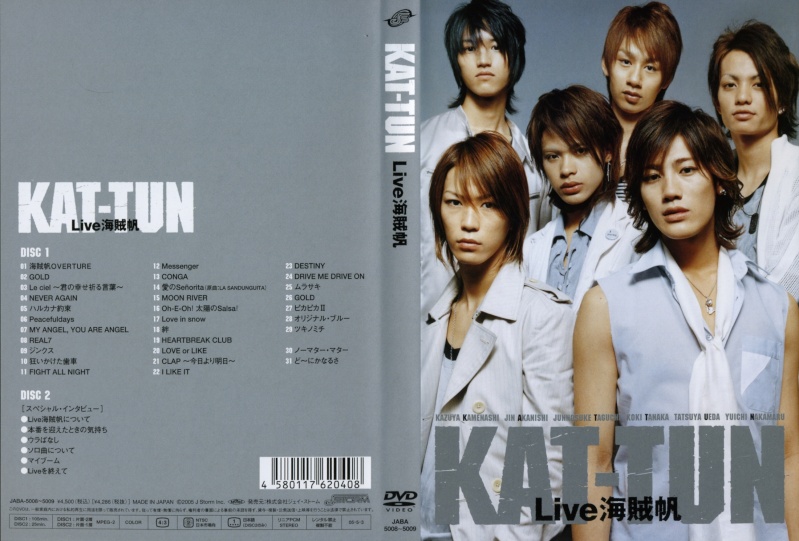 Release Date: 2005/05/03
Summary: The footage of their concert on January 4, 2005 at Yokohama Arena. The tracks included in the disc are as follow:
Disc 1
1. Kaizokuban OVERTURE
2. GOLD
3. Le Ciel -Kimi no Shiawase Inoru Kotoba-
4. NEVER AGAIN
5. Harukana Yakusoku
6. Peacefuldays
7. MY ANGEL, YOU ARE ANGEL
8. REAL7 (Tanaka Koki)
9. Jinx (Nakamaru Yuichi)
10. Kuruikaketa Haguruma (Taguchi Junnosuke)
11. FIGHT ALL NIGHT
12. Messenger
13. CONGA
14. Ai no Senorita
15. MOON RIVER
16. Oh-E-Oh! Taiyo no Salsa!
17. Love in snow (Ueda Tatsuya)
18. Kizuna (Kamenashi Kazuya)
19. HEARTBREAK CLUB
20. LOVE or LIKE
21. CLAP -Kyo yori Ashita-
22. I LIKE IT
23. DESTINY
24. DRIVE ME DRIVE ON
25. Murasaki (Akanishi Jin)
26. GOLD
27. Pikapika!!
28. Original Blue
29. Tsuki no Michi
30. No Matter, Matter (Encore)
31. Donikanarusa (Encore)
Disc 2
~ Several special interviews regarding the concert ~
KAT-TUN before debut looks so cute. The solo songs by the members are among the best solo songs ever
too bad it didn't get released in a CD
. This concert have KAT-TUN playing all dorky and fun.
And this concert also have J.J. Express and Yabu Kota from Ya-Ya-yah guesting
---->
am a big fan of JJE and Ya3...
. And the encore is great too. I just love this concert~~~
KAT-TUN daisuki!!!
~^3^~